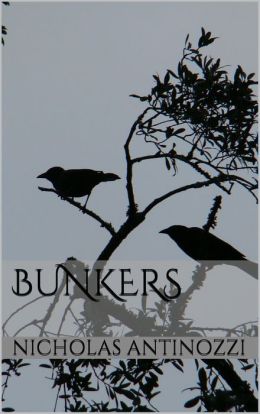 Once again Antinozzi has given me something to stay awake for. I read this book in two nights...only stopping when I fell asleep face down on my Nook. I am a huge fan of this author and "Desperate Times" is still one of my favorite books. After reading "Bunkers" it has moved right up to the same rank. I'm an avid reader of what I call "survivalist" fiction and I have yet to find an author who can write a book that mimics what is going on in our world today.....then take it to the edge like he does. I have yet to find an author who can so meticulously develop a character.....especially the obnoxious type...the way he does.

Bunkers is a "world going to hell" type read, but it is different because it is centered around the idea of a having a bug-out location. It touches on issues that one would need to think about if living in a neighborhood. How well do you really know your neighbors? This book will give you a lot to think about.....I HIGHLY recommend and can NOT wait for his next book.
As of today the book is listed for FREE on Amazon and B&N so grab it now! Links will follow at the bottom of page.
Book Synopsis
When tragedy strikes and as the world begins to crumble around him, Mark SleepingBear decides that it's high time to renovate his grandfather's Cold War era fallout shelter. As conditions deteriorate, Mark struggles with the decision to share his bunker, should the need arise, with his neighbors. For years, Mark has isolated himself from these people. After he shares his secret, his neighbors decide to build their own bunker, a massive shelter, constructed with comfort as the number one priority. Soon, Mark learns that the illusion he has created about his neighbors, is just that. They are far from being the perfect couples he has always envisioned them to be. Mark begins to regret his decision to share the secret. Meanwhile, the country is thrown into an uproar when President Crabtree announces that he has penned a Presidential Order, one that combines the United States with Canada and Mexico, in what Crabtree dubs as the North American Union. Chaos ensues, as the Pentagon staunchly refuses to go along with the plan. Sadly, Mark's worst fears are soon realized
http://www.amazon.com/Bunkers-Nicholas-Antinozzi-ebook/dp/B00ICS9DJQ/ref=sr_1_1?ie=UTF8&qid=1405526836&sr=8-1&keywords=bunkers
http://www.barnesandnoble.com/w/bunkers-nicholas-antinozzi/1118627893?ean=2940045690898&itm=1&usri=bunkers